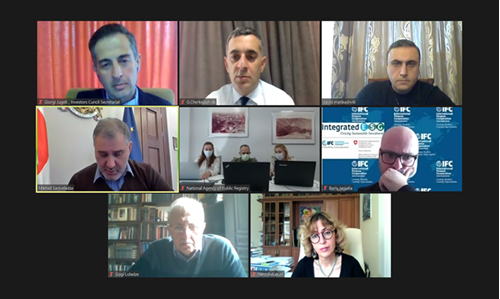 On December 20, 2021 Investors Council held an online discussion regarding the New Law of Entrepreneurs through video conferencing. The law will enter into force in January 2022.
The online meeting was opened by the welcoming remarks from Head of Investors Council Secretariat Mr. Giorgi Cherkezishvili, First Deputy Chair of the Legal Issues' Committee of the Parliament Mr. David Matikashvili and Chair of the Comittee for Human Rights and Civil Integration of the Parliament Mr. Mikheil Sarjveladze. The online discussion was attended by the Supreme Court Justice Ms. Nino Bakakuri, the representatives from the National Agency of Public Registry, experts and law practitioners.
During the meeting, the participants discussed the advantages and shortcomings of the upcoming law; its different clauses and overall technical changes to be made.
The participants will continue to work on remarks to be made at that matter and will provide a final reference document.