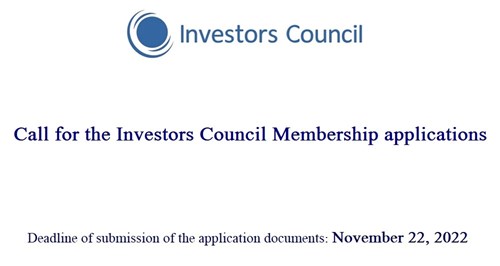 The Secretariat of the Investors Council (IC) Georgia, supported by the European Bank for Reconstruction and Development (EBRD) and funded by the UK Government's Good Governance Fund, is pleased to announce a call for applications for two non-permanent (rotating) members.
The rotation period is eight consecutive IC meetings.
Information about the Investors Council
The Investors Council is an independent advisory body to the Prime Minister of Georgia, with the objective of promoting dialogue between the private business community, international organizations, donors, and the Government of Georgia for the development of a favorable, non-discriminatory, transparent, and fair business and investment climate in Georgia.
The Investors Council of Georgia was established in accordance with the Memorandum of Understanding of April 12th, 2015, between the Government of Georgia and the European Bank for Reconstruction and Development and by virtue of the Decree of the Government of Georgia №829 of April 20th, 2015.
The Investors Council brings together several groups of participants (stakeholders): Government of Georgia, Representatives of domestic and foreign business associations and IFIs and/or international development partners active in the field of private sector development.
A membership aspirant shall:
Be a business organization with a solid reputation and good standing.
Represent a considerable part of the Georgian economy, or of a significant industry/ies or businesses with vested interest in Georgia.
Demonstrate its commitment and capacity to contribute to the work of the Council and its working groups.
Specify key issues, challenges faced by the Country, which will be raised by the member for discussion by the Council.
A preference will be given to organizations, membership aspirants that have been active for more than three years before applying for the membership.
Membership aspirants must submit:
A. Duly completed applicant information including:
Basic Information
1.2 .Organization Name:
1.3. Registration Number:
1.4. Representative's Details:
First and Last Name
Full Address & Contact information (tel, email, etc.)
Position in the organization
Activities & Experience (max 650 words)
2.1. Describe the organization's activities and prior experience.
2.2. Ongoing and completed projects considering the selection criteria above and with particular emphasis on promoting Public-Private-Dialogue and development of a favourable, non-discriminatory, transparent, and fair business and investment climate in Georgia.
Information on Key Staff of the Organization that will be in charge of supporting organization in its capacity as IC member (max 300 words)
 B. CV of the person who will be representing the applicant within the IC
Deadline of submission of the application documents: November 22, 2022 (18:00 Tbilisi Time)
Application documents must be sent to the following email address: tamarm@ics.ge