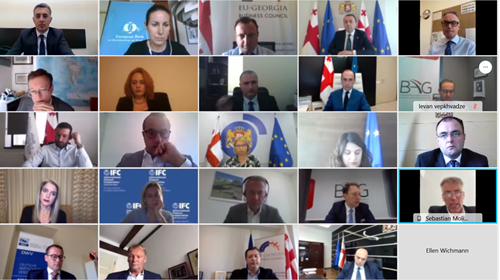 Assessment of the impact of COVID-19 on the economy, post-pandemic economic recovery process and attracting foreign direct investments were the main topics at the 15th Meeting of the Investors Council, which was held on 27th of May under the chairmanship of the Prime Minister of Georgia, Mr. Irakli Gharibashvili by means of video conferencing.
The Head of Government opened the meeting.  The members of the Investors Council were addressed by H.E. Mark Clayton, Ambassador of the United Kingdom of Great Britain and Northern Ireland to Georgia and Ms. Catarina Bjorlin Hansen, Regional Director for the Caucasus at the European Bank for Reconstruction and Development (EBRD).
The meeting's principal focus was improving the investment climate, precise steps to be taken in this regard, as well as the upcoming plans. In addition, the Council Members discussed the process of economic recovery post-Covid-19 pandemic.
Council members considered the issues regarding the impact of Covid-19 on the economy and discussed attracting FDI's by means of short and medium-term measures.
Mr. Vazil Hudák, Special Adviser to the Prime Minister of Georgia on Foreign Investments, participated in the Investors Council Meeting for the first time. He stated that active work will proceed in this direction.
The 15th Meeting of the Investors Council was attended by the representatives of business associations and international financial institutions.