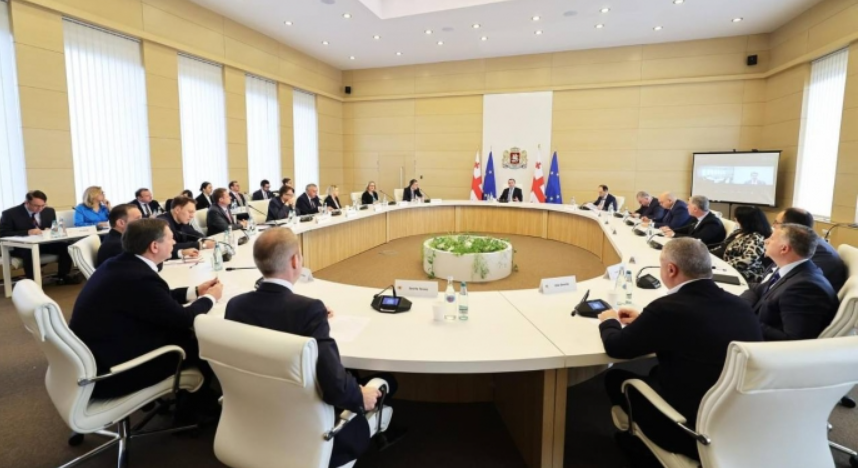 Irakli Garibashvili, Prime Minister of Georgia held and led a meeting of the Investors Council at the Government Administration today. Clare Allbless, Deputy Head of Mission from the Embassy of the UK to Georgia and Alkis Vryenios Drakinos, Regional Director of the European Bank for Reconstruction and Development (EBRD) for the Caucasus made welcome speeches at the meeting launched by the Head of Government of Georgia. Giorgi Cherkezishvili, Secretary of the Investors Council shared information with participants of the meeting on the implementation of the decisions made at the previous meeting as well as a general overview of its performance.
Focus was made on the positive recommendation of the European Commission for the status of an EU Candidate Country to be granted to Georgia by the European Council. The Prime Minister of Georgia stated that this decision is historic and gives new opportunities to the country. Participants of the meeting discussed the engagement of the Investors Council in the reforms implemented by Georgia on its journey towards European integration.
Members of the Investors Council also discussed the proposed amendments to the Law on Entrepreneurship, including the re-registration of businesses craved to be postponed. At the decision of the Prime Minister of Georgia, re-registration of businesses will be postponed and active work will be pursued by the Government and Parliament on the matter. Export promotion of Georgian produce to the EU market was also discussed at the meeting, along with the actual steps to be made towards this end. New tools under the umbrella of access to finance were also discussed.
Current investment climate of the country was among the topics of discussion, along with progress achieved by the Government of Georgia towards economic advancement and large-scale projects actively designed and developed by the Economic Team of the Government of Georgia under the instructions of Irakli Garibashvili.
Rustavi2's article
Source: Rustavi2.ge