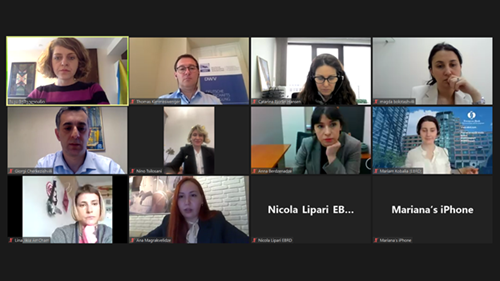 On March 2, 2022 the Gender Equality Working Group (GEWG) of the Investors Council organized a meeting between Ms. Nino Tsilosani, the Chair of the Permanent Parliamentary Gender Equality Council (GEC) and the IC members.      
During the meeting, Ms. Tsilosani presented the recently adopted 2022-2024 action plan of the GEC which prioritizes women's economic empowerment (WEE). She also introduced the draft of the first ever national concept note on WEE, which will be informing future policy and legislative interventions in this area. The Parliament plans to adopt the WEE national concept note following the adoption of the gender equality strategy of the country.
The presentation of the 2022-2024 action plan included the priority areas of the GEC, such as the access to finance for women, and the overview of the most recent statistical information regarding WEE, labor force participation rates, unpaid care work and wage gap.  The Chair of the GEC informed meeting attendees that a parliamentary inquiry on access to finances will be launched in Spring to better understand the barriers women face in accessing finances and issue recommendations to the executive branch to help overcome these barriers.
After the presentation, the attendees had an opportunity to ask questions and provide their feedback.